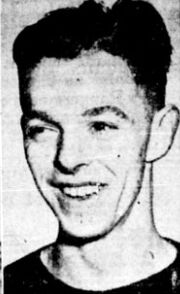 William Shill (b. March 6, 1923 in Toronto, Ontario - d. August 15, 1998) was a professional ice hockey right wing who played 79 games in the National Hockey League. He played with the Boston Bruins.
Shill played junior hockey for the Toronto Young Rangers and also played amateur hockey in the Toronto area. In 1942-43 he was called up to the Boston Bruins and scored 4 goals and an assist in only seven games. Shill returned to Canada and spent time in the miltary during World War II.
After the war Shill returned to the Bruins and scored 15 goals and 12 assists in 1945-46. But midway through the following season he was sent down to the minor pros and never played in the NHL again.
He played in the minors until 1951 when he joined the senior Brantford Redmen. In 1953 he took the job of coach of the East York Lyndhursts who were going to the 1954 World Championship.
At that championship the Lyndhursts played the Soviet Union in that nation's first entry into the World Ice Hockey Championships. The Lyndhursts finished second behind the Soviets but Shill was named to the all-star team for his 6 goals and 3 assists in 9 games.
He then retired.
In the NHL, Shill played in 79 games and scored 21 goals and 13 assists.
Gallery
[
]
External Links
[
]