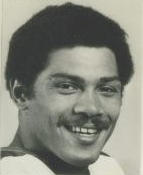 For the Dartmouth Big Green player, please see Bill Riley b. 1921.
William James Riley (born September 20, 1950 in Amherst, Nova Scotia) is a retired Canadian ice hockey player, and was the third black player in the National Hockey League.
He played junior hockey in his hometown with the Amherst Ramblers. Riley then moved to Kitimat, British Columbia where he worked in a factory and played for the local senior team. Bob McVie, the coach of the Dayton Gems of the International Hockey League invited him for a tryout. Riley made the team in 1974.
Riley was given a tryout with the Washington Capitals during their inaugural season and actually played in one game, but he spent most of his time in the minors. He would eventually be signed as a free agent by the Capitals during the 1976–77 NHL season now coached by McVie and played for the Capitals in parts of the next three seasons.
Riley was claimed by the Winnipeg Jets in the 1979 NHL Expansion Draft, but only played in 14 games before he was sent to the minors, where he played until he retired following the 1983–84 season.
Later Bill Riley was player-coach and captain of the St. John's Caps located in Newfoundland and Labrador for a number of years during the late 80's. A popular player he was noted not only for his toughness but fairness as well.
After retiring from professional play, Riley moved into coaching. He was the Head Coach, General Manager and Director Of Player Personnel of the Miramichi Timberwolves of the Maritime Junior A Hockey League. He also served as Head Coach of the Moncton Wildcats of the Quebec Major Junior Hockey League during the 1996–97 season, finishing with a 16–52–2 record.
In the NHL he played in 139 games, scoring 31 goals and 30 assists.
External Links