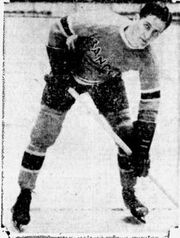 Bill Regan (born 11 December 1908 in Walden, Ontario) was a Canadian professional ice hockey defenceman who played 67 games in the National Hockey League.
He played junior hockey for the St. Michael's Majors from 1925 to 1929.
He began his professional career in 1929, playing for the Boston Tigers, although later that season he was traded to the New York Rangers. He subsequently played for the Bronx Tigers, the Springfield Indians and the New Haven Eagles before being traded to the New York Americans.
He ended his pro career (1934) playing for the Cleveland Indians.
In 1936-37 he made a one season comeback playing for senior teams in Northern Ontario.
In the NHL Regan played in 67 games, scoring 3 goals and 2 assists.
External links
[
]