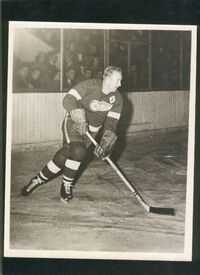 Hubert George "Bill" Quackenbush (March 2, 1922 in Toronto, Ontario - September 12, 1999) was a Canadian professional defenceman who played for the Boston Bruins and Detroit Red Wings in the National Hockey League. His career spanned fourteen years (1942–56), the first seven with Detroit and the remainder with the Bruins.
Bill was the pre-eminent offensive defenceman of his era. He won the Lady Byng Memorial Trophy in 1949, the first defenceman to do so. He played the entire 1948–49 season (and a total of 138 consecutive games across three seasons) without recording a penalty. Quackenbush was a three-time first team and two-time second team All Star. He was inducted into the Hockey Hall of Fame in 1976.
After his NHL career, he coached college hockey at Princeton University, leading the Princeton men's team to one of their best seasons in 1967–68, a 13–10–1 campaign that included winning the ECAC Christmas tournament championship. He later led the Princeton women's Ice Hockey team to three consecutive Ivy League championships in 1982–84.
Quackenbush died of pneumonia on September 12, 1999 at Chandler Hall Hospice in Newtown, Pennsylvania at the age of 77.
External Links
Edit