Bill Plager (b. July 6, 1945 in Kapuskasing, Ontario, Canada – January 3, 2016) was a Canadian ice hockey defenceman.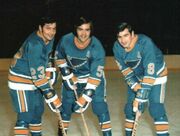 Plager started his National Hockey League career with the Minnesota North Stars in 1967. He also played for the St. Louis Blues and Atlanta Flames. He left the NHL after the 1976 season.
On March 1, 1969, Bill Plager was called up from the minors and played defense against the Montreal Canadiens alongside his brothers Bob and Barclay. This was the second time in NHL history three brothers played together on the same team, the first time all three were defensemen.
External Links