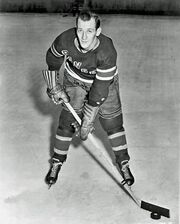 William Carl Moe (born October 2, 1916 in Danvers, Massachusetts - died ?/?/1998) is a retired professional ice hockey player who played 261 games in the National Hockey League. He played for the New York Rangers, scoring 11 goals and 42 assists.
He started out with the Atlantic City Sea Gulls in 1939-40. He played four more years in the Eastern Hockey League and the American Hockey League (AHL), finishing on the AHL First All-Star Team in 1943-44.
The next season he made it to the New York Rangers for five seasons until 1949.
After that he played another four seasons in the minor pros, retiring in 1953. In 1952-53 he was a player-coach of the Troy Uncle Sam Trojans.
He is a member of the United States Hockey Hall of Fame.
Gallery
External Links