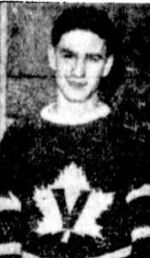 William "Bill, Smiley" Meronek (April 15, 1917 – May 25, 1999) was a Canadian professional ice hockey forward who played 19 games in the National Hockey League for the Montreal Canadiens. He was born in Stony Mountain, Manitoba.
He played junior hockey for the St. Boniface Seals and the Portage Terriers from 1934 to 1937. The Montreal Canadiens brought him east to join the senior Verdun Maple Leafs from 1937 to 1940. In 1939-40 the Canadiens brought him up for seven games and he scored 2 goals and 2 assists.
Meronek then played for the senior Montreal Canadiens from 1940 to 1943. In 1942-43 he split the season between the senior and NHL Canadiens, playing only home games for the two teams because of war-work committments. In the NHL that season he scored 3 goals and 6 assists in 12 games.
His total NHL numbers were 5 goals and 8 assists in 19 games.
Meronek continued to play senior hockey in Quebec and the Ottawa district and retired in 1950.
Awards and achievements
[
]
External links
[
]