The Bill Masterton Memorial Trophy is awarded annually to the National Hockey League player who best exemplifies the qualities of perseverance, sportsmanship, and dedication to ice hockey. The winner is selected by a poll of the Professional Hockey Writers' Association after each teams nominates one player in competition. It is often awarded to a player who has come back from career- or even life-threatening illness or injury. A player can win this trophy only once in his career.
History
The trophy is named in honour of the late Bill Masterton, a Minnesota North Stars player who died on January 15, 1968, after sustaining an injury during a hockey game.[1] During his playing career, Masterton exhibited "to a high degree the qualities of perseverance, sportsmanship, and dedication to hockey".[1] It was first awarded following the 1967–68 regular season. As of the end of the 2006–07 NHL season, players for the Montreal Canadiens, New York Rangers and Boston Bruins have won the trophy 4 times each, while the Los Angeles Kings have won 3 times. Due to the nature of the award, no player has ever won it more than once.
Winners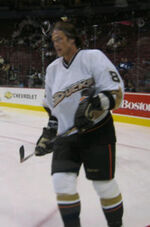 Player is still active
Season
Winner
Team
Reasons for winning
1967–68
Claude Provost
Montreal Canadiens
"Embodied the definition of perseverance and dedication to hockey" throughout his 15 year career.[2]
1968–69
Ted Hampson
Oakland Seals
Had his best statistical year on a recent expansion team.[3]
1969–70
Pit Martin
Chicago Black Hawks
After denouncing his team at the end of the 1968-69 NHL season, Martin and his team came back with a first place, and Martin had 30 goals and 33 assists for 60 points.[4]
1970–71
Jean Ratelle
New York Rangers
A 20 year veteran, he won the trophy for a "lifelong dedication to strong, clean hockey".[5]
1971–72
Bobby Clarke
Philadelphia Flyers
Overcame diabetes to play in the NHL.[6]
1972–73
Lowell MacDonald
Pittsburgh Penguins
Overcame severe ligament and cartilage damage to his knee and scored 34 goals and 41 assists for 75 points during the 1972-73 NHL season[7]
1973–74
Henri Richard
Montreal Canadiens
This honoured a career with 11 Stanley Cups.[8]
1974–75
Don Luce
Buffalo Sabres
Awarded for perseverance and dedication, after a 38-point increase in scoring from the previous season.[9]
1975–76
Rod Gilbert
New York Rangers
Overcame a serious back injury early during his career.[10]
1976–77
Ed Westfall
New York Islanders
Awarded for being a good leader.[11]
1977–78
Butch Goring
Los Angeles Kings
Made the NHL despite his small overall stature and weight, and had consistently good seasons.[12]
1978–79
Serge Savard
Montreal Canadiens
Awarded for "dedication to hockey", after he won his 8th Stanley Cup in eleven seasons.[13]
1979–80
Al MacAdam
Minnesota North Stars
Rewarded for his perseverance after scoring a career high 42 goals and 51 assists for 93 points.[14]
1980–81
Blake Dunlop
St. Louis Blues
Although he was a star in junior hockey, he only broke out during the 1980-81 NHL season, after being drafted during the 1973-74 NHL season, by scoring 20 goals and 67 assists for 87 points. It was awarded for perseverance.[15]
1981–82
Glenn Resch
Colorado Rockies
Awarded for perseverance, as he gave his young team more confidence while he served as goaltender.[16]
1982–83
Lanny McDonald
Calgary Flames
Presented for his dedication; he was traded around the league numerous times, and when he was traded to the Flames, he scored 66 goals and 32 assists for 98 points.[17]
1983–84
Brad Park
Detroit Red Wings
Awarded for his dedication to hockey[18]
1984–85
Anders Hedberg
New York Rangers
He was recognized for a dedicated career, and unlike many other winners, for an exceptional season as well.[19]
1985–86
Charlie Simmer
Boston Bruins
Overcame serious ligament damage to his knee to score 60 points.[20]
1986–87
Doug Jarvis
Hartford Whalers
Awarded after he beat Garry Unger's record for consecutive games played, with 914 games.[21]
1987–88
Bob Bourne
Los Angeles Kings
Awarded for exemplifying the qualities of dedication and perseverance.[22]
1988–89
Tim Kerr
Philadelphia Flyers
He returned to score 48 goals and 40 assists for 88 points in 69 games after overcoming severe knee and shoulder injuries, as well as aseptic meningitis the season before.[23]
1989–90
Gord Kluzak
Boston Bruins
Tried to overcome severe knee injuries, but after playing two games after his 10th knee operation, he retired.[24]
1990–91
Dave Taylor
Los Angeles Kings
Played all his 17 seasons with the Kings, and was honored for his dedication.[25]
1991–92
Mark Fitzpatrick
New York Islanders
Overcame eosinophilia myalgia syndrome, a potentially life-threatening disease, and returned to the NHL.[26]
1992–93
Mario Lemieux
Pittsburgh Penguins
Scored 69 goals and 91 assists for 160 points, despite missing 24 games due to Hodgkin's lymphoma[27]
1993–94
Cam Neely
Boston Bruins
Awarded "to recognize his valiant efforts to return to NHL action after suffering career-threatening injuries"; however he retired after 1995-96 NHL season due to them.[28]
1994–95
Pat LaFontaine
Buffalo Sabres
Overcame serous head injury[29]
1995–96
Gary Roberts
Calgary Flames
Successfully recovered from possibly career-ending surgery to correct bone spurs and nerve damage.[30]
1996–97
Tony Granato
San Jose Sharks
Overcame possibly career-ending brain injury sustained during the 1995–96 NHL season to score 25 goals during the 1996–97 NHL season.[31]
1997–98
Jamie McLennan
St. Louis Blues
Overcame bacterial meningitis.[32]
1998–99
John Cullen
Tampa Bay Lightning
Overcame non-Hodgkin lymphoma.[33]
1999–2000
Ken Daneyko
New Jersey Devils
Overcame alcoholism.[34]
2000–01
Adam Graves
New York Rangers
Awarded for all-around dedication to hockey.[35]
2001–02
Saku Koivu
Montreal Canadiens
Overcame non-Hodgkin lymphoma.[36]
2002–03
Steve Yzerman
Detroit Red Wings
Eventually overcame several health problems, but played only a small part of the 2002–03 NHL season.[37]
2003–04
Bryan Berard
Chicago Blackhawks
Overcame an injury that rendered him legally blind in one eye.[38]
2004–05
This trophy was not awarded as a consequence of the lockout that canceled the entire season.
2005–06
Teemu Selanne
Mighty Ducks of Anaheim
Overcame major knee surgery to get 90 points (40 goals and 50 assists).[39]
2006–07
Phil Kessel
Boston Bruins
Missed 12 games because of testicular cancer mid-season.[40]
2007–08
Jason Blake
Toronto Maple Leafs
Despite his diagnosis with chronic myelogenous leukemia, he played all 82 games of the season.
2008–09
Steve Sullivan
Nashville Predators
Played 41 games this season after missing nearly two years due to a fragmented disc in his back, and a strained groin.[41]
2009–10
Jose Theodore
Washington Capitals
Had his best season since 2001–02 following his son Chase's death in 2009 from complications stemming from his premature birth.
2010–11
Ian Laperriere
Philadelphia Flyers
Diagnosed with post-concussion syndrome after being hit in the face with a puck while blocking a shot during the 2010 Stanley Cup playoffs; did not play again after the injury, but "continued to serve the team in several capacities."
2011–12
Max Pacioretty
Montreal Canadiens
Was knocked out of the 2010–11 season following a hit that left him with a concussion and a fractured vertebra. Pacioretty returned in 2011–12 to have his most productive season to date (33 goals and 32 assists).
2012–13
Josh Harding
Minnesota Wild
Earned a shutout in his first start after being diagnosed with multiple sclerosis in the off-season, then missed 33 games before returning late in the season and starting five playoff games.
2013–14
Dominic Moore
New York Rangers
Returned to the NHL in the 2013–14 season after taking an 18-month leave of absence from the league in the spring of 2012 to care for his wife, Katie, following her diagnosis with a rare form of liver cancer. She died in January 2013.[42]
2014–15
Devan Dubnyk
Minnesota Wild
Led the last-place Wild to the playoffs following a mid-season trade, going 27–9–2 with a 1.78 goals-against average, .936 save percentage and five shutouts. The Wild were Dubnyk's fifth team over the previous two seasons.[43]
2015–16
Jaromir Jagr
Florida Panthers
At the age of 44, led the Panthers in points (66) and was second in goals (27), as the team earned its first Atlantic Division title and returned to the playoffs after 3 absences. Jagr became the oldest player to surpass 60 points, and was lauded for his work ethic and off-ice mentorship.
2016–17
Craig Anderson
Ottawa Senators
Helped his team advance to the conference final after leaving mid-season to be with wife, Nicholle, who was diagnosed with cancer.[44]
2017–18
Brian Boyle
New Jersey Devils
Diagnosed with myeloid leukemia, a type of bone marrow cancer at the beginning of training camp. He returned to the NHL on November 1 and scored 10 goals over his first 25 games.
2018–19
Robin Lehner
New York Islanders
After publicly revealing struggles with alcoholism and bipolar disorder in the offseason, had a career-low 2.13 goals against average in the regular season with the Islanders, which was the lowest total since the mid-1980s.
See Also
References
Dinger, Ralph [1932]. National Hockey League Official Guide & Record Book, 2004, Toronto: Dan Diamond. ISBN 0-920445-84-5.

 
Notes
External Links