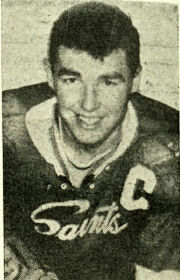 William "Bill" MacMillan (born March 7, 1943 in Charlottetown, Prince Edward Island) was a player and coach in the National Hockey League. He spent 9 seasons in the NHL with the Toronto Maple Leafs, Atlanta Flames, and New York Islanders, and was the head coach of the Colorado Rockies in 1980–81 and coached the New Jersey Devils from 1981 to 1983. He won the Stanley Cup in 1980 with the New York Islanders as an Assistant Coach.
MacMillan played junior hockey for the St. Michael's Majors in 1960-61 and 1961-62, He then switched to the Neil McNeil Maroons in 1962-63.
In 1963-64 and 1964-65 he played for St. Dunstan's University. In 1965 he joined the Canadian National Team and played for them until they disbanded in 1970.
His NHL career began in 1970-71 with the Toronto Maple Leafs. He would also play with the Atlanta Flames and New York Islanders before retiring in 1978. He played in 446 NHL games and scored 74 goals and 77 assists.
MacMillan became coach of the Central Hockey League's Fort Worth Texans (an Islanders' farm team). The Texans won the Adams Cup as league playoff champions. MacMillan was promoted to the Islanders as an assistant coach in 1979-80, winning the Stanley Cup.
In 1980-81, MacMillan became coach of the Colorado Rockies, replacing Don Cherry for only one season. He moved with the team to the New Jersey Devils until he was fired at the end of the 1982-83 season.
External links