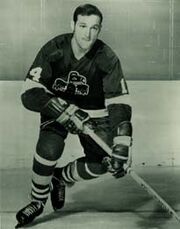 William Arthur Knibbs (b. January 24, 1942 in Toronto, Ontario - d. September 16, 2006) was a professional ice hockey centre who played 53 games in the National Hockey League with the Boston Bruins.
He played junior hockey for the Barrie Flyers and the Niagara Falls Flyers from 1959 to 1962. In 1962-63 he turned pro with the Kingston Frontenacs.
In 1964-65 he got a chance in the NHL and played 53 games for the Boston Bruins, scoring 7 goals and 10 assists. That did not impress the Bruins, and Knibbs never got another chance in the NHL.
He was claimed by the New York Rangers at the end of the season. Knibbs played in the minor pros until his retirement in 1975.
Another rookie had almost identical statistics in the 1964-65 NHL season. Yvan Cournoyer had the same scores - 7 goals and 10 assists - and played two more games - 55.
References