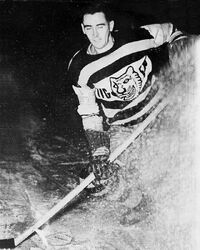 Bill Hutton (born William David Hutton on January 28, 1910 in Calgary, Alberta - March 1, 1974 in Vancouver, British Columbia) was a Canadian professional ice hockey defenceman who played 2 seasons in the National Hockey League (NHL) for the Ottawa Senators, Boston Bruins and Philadelphia Quakers.
At 5'10, and 165lbs, Hutton played for the junior Calgary Canadians from 1927 to 1929.
After his pro career ended in 1942, he played two seasons for the senior Vancouver St Regis team. He retired in 1944.
Career statistics
External links