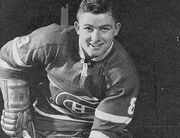 William Lawrence "Bill" Hicke (March 31, 1938 - July 18, 2005) was a professional player. A native of Regina, Saskatchewan, Hicke played 729 games over 13 seasons in the National Hockey League with the Montreal Canadiens, New York Rangers, Oakland Seals, and Pittsburgh Penguins. He spent one season in the World Hockey Association with the Alberta Oilers.
He was a star with the Regina Pats, a junior team sponsored by the Montreal Canadiens. He played for them for four seasons (1954-58) and they made it it the Memorial Cup finals in 1954-55 and 1955-56.
Hicke turned pro in 1958-59 AHL season with the Rochester Americans. He won the John B. Sollenberger Trophy as the leading scorer, the Les Cunningham Award as the most valuable player, and the Dudley "Red" Garrett Memorial Award as the top rookie.
He was promoted to the Canadiens that year and won Stanley Cups in 1959 and 1960,
But as good as he was, the Canadiens were a powerhouse team with great depth. Hicke did not get that much ice time. In 1961-62 he did score 20 goals and 31 assists, but that was a high-water mark. By 1964 he was a part-time player on the team and was traded to the New York Rangers for Dick Duff.
He did not fare too well with the Rangers either. Over three seasons he scored only 18 goals with the team and did spend time in the minors.
In the 1967 NHL Expansion Draft Hicke was chosen by the Oakland Seals. Over four seasons, Hicke showed flashes of his junior and AHL glory with 79 goals.
He then joined the Pittsburgh Penguins for a short time in 1971-72 and then the Alberta Oilers of the World Hockey Association in 1972-73. But by then asthma had taken its toll and Hicke retired.
From 1993 to 1994, Hicke coached and managed the Regina Pats. In 2005 he was awarded the WHL's Governor Award. Hicke died in his native Regina, Saskatchewan, at the age of 67, after a lengthy battle with cancer.
He was the brother of Ernie Hicke.
Gallery
External Links