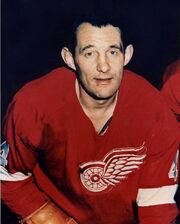 William Alexander Gadsby (born August 8, 1927 in Calgary, Alberta – March 10, 2016) was a Canadian professional ice hockey defenceman who played for the Chicago Black Hawks, New York Rangers, and Detroit Red Wings in the National Hockey League.
He was inducted into the Hockey Hall of Fame in 1970. In 1998, he was ranked number 99 on The Hockey News' list of the 100 Greatest Hockey Players. Despite a long (21 year) NHL hockey career, Gadsby never won the Stanley Cup. He came closest to winning the Cup in his final season, when Detroit Red Wings lost a 6-game final series to the Montreal Canadiens.
Career
Gadsby started out with the junior Edmonton Canadians in 1944-45 for two seasons. then was signed by the Chicago Black Hawks. He made the big team in 1946-47 after only 12 teams in the minors.
He played with Chicago until 1954, when he was traded to the New York Rangers for Allan Stanley. With New York he was on the NHL 1st All Star team three times (1956,1958,1959) and the second team once (1957). He also set a record for assists by a defenceman (46 in 1958-59). The Rangers traded him to Detroit in 1961 after a 1959 trade fell through.
Gadsby had the bad luck to play with some terrible teams during most of his career which resulted in his playing in only 67 playoff games in his 20 year career. During the regular seasons, he scored 130 goals and 438 assists in 1248 games. He also had 1539 penalty minutes.
After retiring in 1966, Gadsby coached the Red Wings in 1968-69 but missed the playoffs. He was fired two games into the next season.
Death
He died at the age of 88 on March 10, 2016 in Farmington Hills, Michigan following a period of failing health.
All Star Picks
First All Star: 1955-56, 1957–58, 1958–59
Second All Star: 1952-53, 1953–54, 1956–57, 1964–65
Gallery
Video
An incredible video featuring the 1951 off-season activities of 15 NHL players in the days when most worked during the summer. Brief, excellent game footage of each is shown. Players featured are Ted Lindsay, Johnny Peirson, Bill Mosienko, Bill Gadsby, Bill Juzda, Leo Reise, Jack Gelineau, Edgar Laprade, Doug and Max Bentley, Chuck Rayner, Gus Mortson, Pentti Lund, Glen Harmon, Elmer Lach.
External Links