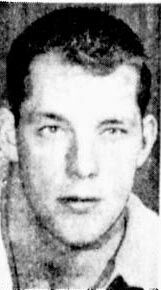 Bill Dobbyn (Born July 7, 1935 in Basswood, Manitoba) was defenceman in the American Hockey League.
Dobbyn was the last cut from the New York Rangers camp in October 1958. While playing for the Buffalo Bisons, he was high-sticked by Ellard O'Brien in the left eye. Damage was so severe the eye was removed.
GM Jack Adams of the Detroit Red Wings organized a game to benefit Dobbyn. Each NHL team sent a few star players to form an NHL all-star team to play the Bisons at Buffalo's Memorial Auditorium on February 17, 1959. The Aud sold out with 9,368 fans. The all stars wore their individual team jerseys and included NHL leading scorer Andy Bathgate along with Bobby Hull, Ted Lindsay and seven of the league's top 15 scorers. The Bisons lost the game 6-2 as $25,000 was raised for Dobbyn.
Although his injury precluded him from playing professionally in Canada or the U.S., he continued his career in Europe before returning to play for the Waterloo Black Hawks of the semi-pro USHL from 1964-65 to 1967-68 before retiring.
Community content is available under
CC-BY-SA
unless otherwise noted.