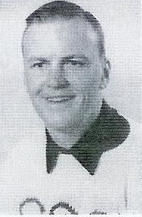 William J. "Bill" Cleary, Jr. (born August 19, 1934 in Cambridge, Massachusetts) is a former United States ice hockey player, coach, and athletic administrator. He played on the U.S. hockey team that won the Winter Olympic gold medal in 1960.
Career
[
]
Cleary was an All-American college hockey player at Harvard University, where he still holds several records, including most points in a single season (89). Taking a year away from college, he won a silver medal as a member of the U.S. ice hockey team at the 1956 Winter Olympics, after turning down a pro contract offer from the NHL Montreal Canadiens. Four years later, he won a gold medal with the U.S. team that upset the heavily favored Soviet team at the 1960 Olympics in Squaw Valley, California.
He was named to the NCAA Ice Hockey 50th Anniversary team, chosen as the U.S. Hockey Player of the Decade (1956–66), and inducted into both the International Ice Hockey Hall of Fame and the U.S. Olympic Hall of Fame. In 1996 he was selected as one of the "100 Golden Olympians" by the U.S. Olympic Committee. Sports Illustrated named him the 33rd best athlete of the 20th century in the state of Massachusetts.
Cleary went on to coach hockey at Harvard for over twenty years, leading them to the NCAA National Championship in 1989. At Harvard he coached three Hobey Baker Award winners (Scott Fusco, Mark Fusco and Lane MacDonald) as well as many NHL stars. He compiled a career 324–201–22 record, for a .612 winning percentage.
Cleary was the driving force behind the structure of the ECAC Hockey League and a mentor to several successful college coaches, including 1987 CCHA Coach of the Year Val Belmonte. The Cleary Cup, named in his honor, is awarded to the ECAC's regular season champion.
After leaving coaching in 1990, Cleary became Athletic Director at Harvard, where he supervised a program comprising over forty varsity sports teams. He is now retired in the Boston area.