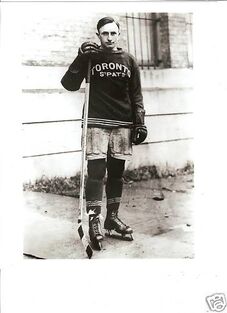 For the player of the same name drafted in the 1963 NHL Amateur Draft, see Bill Carson (Draft)
William Joseph "Doc" Carson (November 25, 1900 – May 29, 1967) was a Canadian professional ice hockey forward who played 159 games in the National Hockey League. Born in Bracebridge, Ontario, he played for the Toronto Maple Leafs and Boston Bruins. He won the Stanley Cup in 1929 with the Boston Bruins.
He played for the University of Toronto, winning the Allan Cup in 1921. after graduating as a dentist in 1923, he played senior hockey for several seasons. In 1926-27 he joined the Toronto Maple Leafs, playing there for two and a half seasons.
Midway through the 1928-29 season he was traded to the Boston Bruins for cash. He put in two seasons for the Bruins, scoring the Stanley Cup winning goal for them in 1929.
After 1930 he played two minor pro seasons.
Gallery
External Links