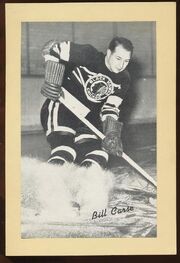 Bill Alexander Carse (May 29, 1914 – October 31, 2000) was a Canadian professional ice hockey forward who played 122 games in the National Hockey League for the Chicago Black Hawks and New York Rangers. He was born in Edmonton, Alberta.
He played junior hockey in his hometown of Edmonton with the Edmonton Strathconas, Edmonton Canadians, and the Edmonton Athletic Club. Carse played in the 1933-34 Memorial Cup Final with the Athletic Club who lost to the St Michaels College Majors.
Carse turned pro with the Edmonton Eskimos of the North West Hockey League in 1934 and spent four years in the league. The New York Rangers accquired him in 1937. After a year with their farm team the Philadelphia Ramblers he was called up to the NHL for a game with the Rangers in 1938-39.
The Chicago Black Hawks bought his rights in 1939 and Carse then spent three seasons there, scoring 28 goals.
In 1942-43 he returned to Canada to play for the Victoria Army team that lost the 1942-43 Allan Cup Final. After World War II Carse played with the Vancouver Canucks in the Pacific Coast Hockey League until he retired in 1951.
He was the head coach of the Penticton V's of the Okanagan Senior League in 1952-53.
In his NHL career, Carse scored 28 goals and 43 assists in 124 games.
Gallery
External Links