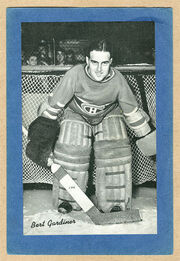 Wilbert Homer Gardiner (May 25, 1913, in Saskatoon, Saskatchewan - August 28, 2001) is a former professional ice hockey goaltender who played 144 games in the National Hockey League. He played with the Montreal Canadiens, Chicago Black Hawks, Boston Bruins, and New York Rangers.
He started out in junior hockey in Saskatoon before moving to the Calgary Jimmies for two seasons (1931-32 and 1932-33). He returned to his hometown to play for the senior Saskatoon Standards in 1933-34.
Gardiner was brought east by the New York Rangers to play for the Brooklyn Crescents of the Eastern Hockey League in 1934-35, He got in one game with the Rangers the following season but spent five years with the Philadelphia Ramblers of the International American League. He got into 6 Rangers playoff games in 1939.
In 1940 he was traded to the Montreal Canadiens with whom he finally played a full NHL season in 1940-41.
Gardiner was loaned to the Chicago Black Hawks for 1942-43 and to the Boston Bruins in 1943-44. Gardiner retired in 1944.
Gallery
References