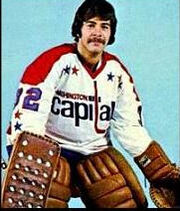 Bernard Ronald Wolfe (b. December 18, 1951 in Montreal, Quebec) is a retired Canadian National Hockey League goaltender.
Signed as a free agent in 1975 by the Washington Capitals, Wolfe would play for four seasons before retiring in 1979 at age 27. In 120 games played, his record was 20-61-21, with 424 goals against, a 4.17 goals against average, and one shutout. He showed flashes of brilliance and was a solid performer on a team that struggled in those early years. A former all-Canadian goalie with the Sir George Williams University, Wolfe was cool under pressure with a poor team in hockey's most difficult position. Wolfe was the president of the Washington Capitals Alumni Association from 1992 to 2007.
Wolfe retired from professional hockey in 1979.
Wolfe's NHL "career" was revived briefly in 1992, when the Capitals tried to sign him in order to make him the goaltender they would expose in the 1992 NHL Expansion Draft. The move was immediately denied by the NHL for obvious reasons; Wolfe had long retired from the NHL and was well into his career as a financial planner in the Washington, D.C.-metropolitan area. Phil Esposito, who had recently become part owner of the expansion Tampa Bay Lightning was quoted as saying about the incident: "I didn't just pay $50 million for Bernie Wolfe. He wasn't any good when I played against him".
Since the Capitals were unwilling to expose any of their current goaltenders, they would eventually sign Steve Weeks for that purpose.
Community content is available under
CC-BY-SA
unless otherwise noted.