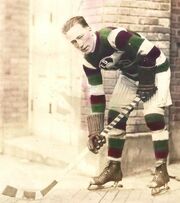 Bernard "Bernie" Patrick Morris (born August 21, 1890 - May ? 1963) - was an ice hockey player for the old Seattle Metropolitans of the Pacific Coast Hockey Association. When the Metropolitans became the first U.S.-based team to win the Stanley Cup in 1917, Morris scored 14 of Seattle's goals (in a best-of-five series).
Playing career
[
]
Born in Brandon, Manitoba, Morris played for several senior teams in Manitoba and Saskatchewan before joining the Victoria Aristocrats of the Pacific Coast Hockey Association (PCHA) in 1914. He moved over to Seattle the following season, and played eight seasons for Seattle, and was a member of the Stanley Cup champion 1917 team. He played in two other Finals, the ill-fated 1919 series, and the 1923 series. He had an outstanding 1917 series, scoring 14 goals in four games. He missed part of the 1918-19 and all of the 1919-20 seasons because of charges of draft evasion during World War I. When those charges were dropped Morris returned to playing hockey.
In 1923, he joined the Calgary Tigers and played a season and a half before joining the Boston Bruins of the National Hockey League (NHL) in 1924-25. He finished that season with the Regina Capitals of the Western Canada Hockey League.
From 1925 unil 1930, he finished his career with various teams in the minor California Pro League, the Canadian Professional, Prairie. and International League.
Trivia
[
]
Morris scored the first overtime goal in Bruins history during a 1-0 win over the Montreal Maroons on February 7, 1925.
Awards
[
]
PCHA First All-Star: 1915-16. 1916-17, 1917-18, 1918-19,1921-22.
PCHA Second All-Star: 1920-21,1922-23.
External links
[
]