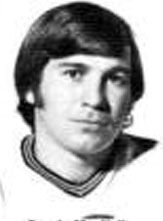 Stephen Bernard MacNeil (born March 7, 1950 in Sudbury, Ontario) is a retired Canadian professional ice hockey forward who played 4 games in the National Hockey League for the St. Louis Blues. He also played 119 games in the World Hockey Association with the Los Angeles Sharks and Cincinnati Stingers.
He played junior hockey for the Espanola Eagles from 1968 to 1970 where he was a top scorer and enforcer. The Detroit Red Wings chose him 82nd overall in the 1970 NHL Amateur Draft.
MacNeil played two seasons for the Fort Wayne Komets before jumping to the Los Angeles Sharks of the World Hockey Association (WHA) in 1972. He scored 4 goals and 7 assists in 42 games for the Sharks.
The next season he moved to the St. Louis Blues for 4 games and played the rest of the season in the Western Hockey League. After playing most of 1974-75 with the Binghamton Dusters MacNeil played the 1975-76 season for the WHA's Cincinnati Stingers.
He retired in 1976.
In the WHA MacNeil scored 19 goals and 19 assists in 119 games.
External links
[
]
Bernie MacNeil's career stats at The Internet Hockey Database