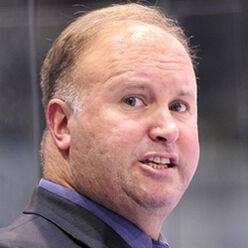 Benoit Groulx (born January 30, 1968 in Hull, Quebec) is the coach of the junior Gatineau Olympiques of the Quebec Major Junior Hockey League (QMJHL).
He played junior hockey for the Granby Bisons of the QMJHL from 1985 to 1989. Undrafted by the NHL, he then spent one season in Belgium and then ten seasons in France. Most of his time in France was in the top French league, the Ligue Magnus. He retired in 1999.
Groulx spent two seasons as an assistant coach of the Shawinigan Cataractes of the QMJHL from 2000 to 2002. From 2002 to 2005, he was the head coach of the Gatineau Olympiques (from 2002 to 2004 they were the Hull Olympiques). The Olympiques made the Memorial Cup tournaments in 2003 and 2004.
In 2008 Groulx was named the coach of the Rochester Americans of the American Hockey League. His team went 29-43-0 in 2008-09 and then improved to 44-33-0 in 2009-10. Despite the improvement Groulx was unhappy in Rochester and returned to the Olympiques in 2010.