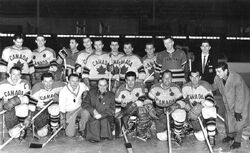 The Belleville McFarlands were a senior team in Belleville, Ontario in the 1950's.
Like their cousins the Whitby Dunlops, the McFarlands grew out of the Ontario Senior B system of the early 1950's. They became part of a Senior A league in Eastern Ontario in 1956-57.
This team only existed for four full seasons, but they won an Allan Cup in 1958 and a World Championship in 1959 during that time.
The team was partially subsidized by a local contractor named Harvey McFarland, hence the name. It was also being subsidized by the city of Belleville, which lost over $100,000.
They folded at the beginning of the 1960-61 season when the Dunlops also folded. At the time, the rest of the teams were in southwestern Ontario which meany very long road trips. Attempts to ressurect the team in a league in the Ottawa District Hockey Association also foundered due to travel costs.
Season
Games
Won
Lost
Tied
Points
Goals
for
Goals
against
Standing
Playoffs
1956-57
52
22
25
5
49
213
205
3rd
Lost Final
1957-58
52
29
20
3
61
214
195
1st
Won Final Won Allan Cup
1958-59
48
27
13
8
62
215
160
2nd
Did not play in playoffs - Won World
1959-60
54
18
35
1
37
196
262
5th
Lost Semi Final
1960-61
2
0
2
0
0
7
10
Withdrew
Out of playoffs
Community content is available under
CC-BY-SA
unless otherwise noted.