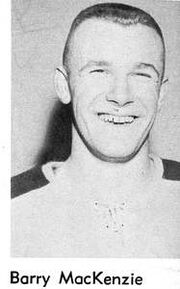 Barry MacKenzie (born August 16, 1941 in Toronto, Ontario, Canada ) is a retired ice hockey player. He represented Canada at the 1968 Winter Olympics, winning one bronze medal. He would also play professionally in the National Hockey League with the Minnesota North Stars. He was inducted into the International Ice Hockey Federation Hall of Fame in 1999.
He played junior hockey for the St. Michael's Majors from 1960 to 1962, winning the Memorial Cup in 1961. In 1962-63 he played for the University of British Columbia.
In 1963-63 Mackenzie joined the newly-formed Canadian National Team and stayed with the team through 1967-68. He represented Canada at the 1964 and 1968 Olympics and the 1965, 1966, and 1967 World Championships.
His NHL rights, which had belonged to the Toronto Maple Leafs, were sold to the Minnesota North Stars in 1967. In 1968-69 Mackenzie turned pro and played six games for the Stars, scoring one assist. He spent the rest of the season with the Memphis South Stars. That was his last season of pro hockey.
In 1969-70 he was the player-coach of the Seibu team in Tokyo, Japan. He retired in 1970.
In 1972-73 he was the coach of the junior Sudbury Wolves for part of the season.
Starting in 1978 he began at Athol Murray College of Notre Dame he coached there for 22 years winning national championships at the midget and junior levels.
He became the Director of Player development for the Minnesota Wild  in 2000.
In 2016 he was inducted into the Saskatchewan Hockey Hall of Fame in the builders category.
External links
[
]