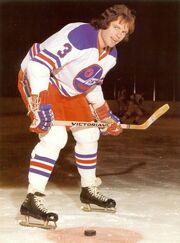 Barry Long (born January 3, 1949) is a retired Canadian professional ice hockey player who played 280 games in the National Hockey League and 387 games in the World Hockey Association. Born in Red Deer, Alberta, he played for the Los Angeles Kings, Edmonton Oilers, Winnipeg Jets, and Detroit Red Wings.
Long played junior with the Moose Jaw Canucks of the WCJHL. He spent his first four years as a pro toiling in the minor pros before playing two years on the Los Angeles Kings' defence beginning in 1972-73.
In 1974, he opted to sign with the WHA's Edmonton Oilers and was picked as an alternate for that year's Summit Series versus the USSR. During his first year in the league, Long scored 20 goals and provided grit in his own end. His solid year earned him a place on the WHA's second all-star team. He played another year in Edmonton before he was sent to the Winnipeg Jets for future considerations during the first week of the 1976-77 schedule. Long was excellent at both ends for the Jets and was named again to the league's second all-star team in 1978.
In June 1979, the veteran blueliner was reclaimed by the Detroit Red Wings prior to the 1979 NHL Expansion Draft. He played all 80 games for the Wings in 1979-80 then was sent to the Jets for cash the next fall. Long scored 23 points and was a team leader on Winnipeg then joined the Canadian national team at the 1981 World Championship. Injuries forced the steady veteran to retire after playing only five games in 1981-82.
Two years later, Long returned to the Jets as the team's head coach. He guided the club to a .500 record after taking over from Tom Watt after 31 games then posted a 43-27-10 record in 1984-85. The wheels fell off the next season when Long was relieved by John Ferguson after Winnipeg only won 19 of its first 66 games.
Gallery
External Links