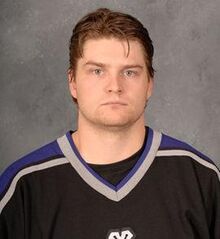 Barry Brust (born August 8, 1983 in Swan River, Manitoba) is a Canadian ice hockey goaltender currently playing with the Houston Aeros of the American Hockey League. He was raised in Kelowna, British Columbia.
Playing career
[
]
Brust was drafted in the 3rd round, 73rd overall in the 2002 NHL Entry Draft by the Minnesota Wild from the Spokane Chiefs of the Western Hockey League. After his final year in the WHL with the Calgary Hitmen, Brust signed as a free agent with the Los Angeles Kings to a three-year contract on June 9, 2004.
Brust made his NHL debut with the Kings in the 2006–07 season and played in 11 games, winning two.
After not being offered a qualifying offer by the Kings before the 2007–08 season, he signed with the Houston Aeros of the American Hockey League. Brust was awarded at seasons end, along with Aero's teammate Nolan Schaefer, the Harry "Hap" Holmes Memorial Award for the fewest goals against in the AHL.
On July 1, 2008, Brust signed a two year deal with the Minnesota Wild and was assigned back to the Aeros.
In spring 2011, Brust signed a one-year-contract with Straubing Tigers DEL.
Awards
[
]
Career statistics
[
]
Regular season
Playoffs
Season
Team
League
GP
W
L
T
OTL
Min
GA
SO
GAA
SV%
GP
W
L
Min
GA
SO
GAA
SV%
2000–01
Spokane Chiefs
WHL
16
4
6
1
-
777
42
0
3.24
.891
1
0
0
0
0
0
0.00
1.00
2001–02
Spokane Chiefs
WHL
60
28
21
10
-
3540
152
1
2.58
.912
11
6
5
677
23
0
2.04
.920
2002–03
Spokane Chiefs
WHL
59
22
31
4
-
3385
194
0
3.38
.882
11
4
7
722
37
0
3.07
.915
2003–04
Spokane Chiefs
WHL
27
10
13
2
-
1505
75
0
2.99
.903
—
—
—
—
—
—
—
—
2003–04
Calgary Hitmen
WHL
25
12
8
3
-
1448
54
2
2.24
.917
7
3
4
457
15
2
1.97
.928
2004–05
Reading Royals
ECHL
42
27
9
4
-
2413
79
4
1.96
.928
8
4
4
481
14
2
1.74
.943
2005–06
Reading Royals
ECHL
6
3
3
-
0
361
18
0
3.00
.906
—
—
—
—
—
—
—
—
2005–06
Manchester Monarchs
AHL
35
19
14
-
1
1971
89
2
2.71
.916
5
2
2
279
17
1
3.66
.899
2006–07
Manchester Monarchs
AHL
18
9
7
-
0
951
38
2
2.40
.923
5
2
1
199
6
0
1.81
.936
2006–07
Los Angeles Kings
NHL
11
2
4
-
1
486
30
0
3.70
.878
—
—
—
—
—
—
—
—
2007–08
Houston Aeros
AHL
43
24
16
-
3
2380
90
4
2.27
.919
3
1
2
202
6
1
1.78
.932
2008–09
Houston Aeros
AHL
29
9
9
-
3
1548
65
0
2.52
.912
-
-
-
-
-
-
-
-
NHL totals
11
2
4
-
1
486
30
0
3.70
.878
—
—
—
—
—
—
—
—
AHL Totals
96
52
37
-
4
5302
217
8
2.46
.918
13
5
5
680
29
2
2.56
.917
External links
[
]
Barry Brust's career stats at The Internet Hockey Database