Barrie is located in the central part of Southern Ontario in Canada. It is about 80 kilometers north of Toronto on the shore of Lake Simcoe. It has a population of approximately 130,000.
There have been a large number of hockey teams based there over the years. including the junior and senior Barrie Flyers and the junior B and major junior Barrie Colts.
OHA Sr., 1894-1895; 1903-1904; 1905-1906)
OHA Sr. B, 1947-1948)
(OHA Jr., 1897-1900; 1902-1905; 1907-1912; 1914-1915; 1916-1920; 1921-1922; 1923-1931; 1932-1933)
(Central Junior A Hockey League, 1992-1993) joined OPJHL
(Ontario Provincial Junior Hockey League, 1993-1995) granted OHL expansion team
(Ontario Hockey League, 1995-present)
(Ontario Hockey Association Jr. A, 1945-1960) moved to Niagara Falls
(OHA Sr. A, 1966-1979) join Georgian Bay Intermediate A Hockey League
(OHA Sr. A, 1983-1984)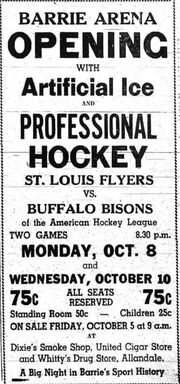 Allandale Recreation Centre
Circle at Centre Rink
Eastview Arena
Holly Recreation Centre
National Training Rinks
Community content is available under
CC-BY-SA
unless otherwise noted.