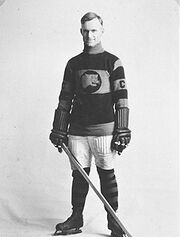 Russell "Barney" Stanley (June 1, 1893 in Paisley, Ontario – May 16, 1971) was a Canadian professional forward who played for the Edmonton Eskimos, Vancouver Millionaires, Calgary Tigers, Regina Capitals and Chicago Black Hawks.
Stanley started out with the local Paisley team in the Ontario Hockey Association. He then moved out to Edmonton in 1911 where he played with the senior Edmonton Maritimers, Edmonton Albertas, and Edmonton Dominions.
He turned pro with the Vancouver Millionaires in 1914-15 when they won the Stanley Cup. He played with them until 1919.
In 1919-20 Stanley played for the Edmonton Eskimos of the Alberta Big Four League and then moved to the Calgary Tigers of the same league in 1920-21.
For the next five seasons Stanley played in the Western Canada Hockey League and its successor the Western Hockey League. After it folded Stanley played the 1926-27 season for the Winnipeg Maroons in the American Hockey Association (1926-1942).
In 1927-28 he was named the coach of the Chicago Black Hawks and even played one game (his only NHL game) for them. After a 4-17-2 record he left after the one season.
He later coached the junior Edmonton Poolers.
Barney scored three goals in the deciding game of the 1915 Stanley Cup which gave the Millionaires their first and only Stanley Cup. He was inducted into the Hockey Hall of Fame in 1962.
External links
Edit
Community content is available under
CC-BY-SA
unless otherwise noted.