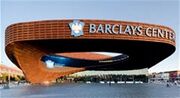 The Barclays Center is a sports arena in Brooklyn, New York. The arena was built partly on a platform over the Vanderbilt Yards at Atlantic Avenue. It is part of a proposed $4.9 billion sports arena, business and residential complex. The arena was intended to serve as a new home for the National Basketball Association's New Jersey Nets, formerly based at Prudential Center in Newark, New Jersey. Upon their arrival in 2012, the team was promptly renamed Brooklyn Nets.
Starting in 2015, Barclays is also home of the New York Islanders, who moved there once their lease at the Nassau Veterans Memorial Coliseum expired. Brooklyn is geographically the western end of Long Island, and many on other parts of the island have roots there. Also, the Nets and Islanders had previously shared Nassau Coliseum from 1972 to 1977. Financing documents for the arena released in December 2009 indicate that "The New York Islanders could potentially become a tenant" at the Barclays Center. The Islanders' agreement with the New York Rangers allows them to relocate anywhere on Long Island, including Brooklyn and Queens. Whereas the original Gehry design would have featured a hockey configuration with capacity typical of the arenas used in the National Hockey League, the final design for the Barclays Center is designed mainly for basketball use. It can nevertheless accommodate an NHL-size rink, though the arena will only be able to seat 14,500 fans in its hockey configuration, which would give it the lowest seating capacity in the NHL.
Community content is available under
CC-BY-SA
unless otherwise noted.