Ball Arena
The Can

Location
1000 Chopper Circle
Denver, Colorado 80204
Broke ground
1997
Opened
1999
Owner
E. Stanley Kroenke
Operator
E. Stanley Kroenke
Surface
Multi-Surface
Construction cost
$160 million USD
Architect
Populous
Tenants
Colorado Avalanche (NHL) (1999-present)
Denver Nuggets (NBA) (1999-present)
Colorado Mammoth (NLL) (2002-present)
Colorado Crush (AFL) (2003-present)
Democratic National Convention (2008)
MWC Conference Tournament (2004-2006)




Capacity
Basketball: 19,309
Hockey, Lacrosse: 18,007
Arena Football: 17,417
Concerts: up to 25,000
The Ball Arena formerly the Pepsi Center (1999-2020) (aka The Can) is an arena located in Denver, Colorado, USA. The building is home to the Colorado Avalanche, Denver Nuggets, Colorado Mammoth and Colorado Crush. When not in use by one of Denver's sports teams, the building frequently serves as a concert venue.

From its opening through 2020, the naming rights to the arena were held by PepsiCo, under which it was known as the Pepsi Center. On October 22, 2020, the naming rights were sold to Broomfield-based Ball Corporation, and the arena was renamed Ball Arena. As part of the agreement, the arena will serve all concessions in aluminum packaging by 2022 to reduce plastic waste.[1]
Construction
Pepsi Center was constructed as part of a massive 6-year sporting venue upgrade in Denver. The complex was constructed to be readily accessible. The arena sits on Speer Boulevard, a main thoroughfare in downtown Denver, and is served by a nearby exit off of Interstate 25. There is also a light rail station on the western side of the complex.
Ground was broken for the arena on November 20, 1997, on the 4.6 acre site. Its completion in October 1999 was marked by a Celine Dion concert. Capacity for the building is listed at 19,309 for basketball games, 18,007 for hockey and lacrosse, and 17,417 for arena football games. Also included in the complex are a basketball practice facility used by the Nuggets, and the Blue Sky Grill, a restaurant accessible from within and outside the Center itself. The atrium of the building houses a suspended [sculpture depicting various hockey and basketball athletes in action poses.
Before the construction of Pepsi Center, the Denver Nuggets and Colorado Avalanche played in McNichols Sports Arena, a building that has since been torn down to serve as a parking lot for nearby Invesco Field.
Activity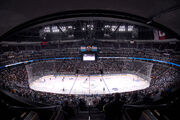 Pepsi Center hosted the 2001 NHL All-Star Game and the 2001 Stanley Cup Finals. The NCAA Men's ice hockey Frozen Four West Regional was hosted on March 24 and March 25, 2007.
The NCAA Men's ice hockey Frozen Four tournament was held at the arena on on April 10 and April 12, 2008. The center was also used in aerial shot of the 2007 film Blades of Glory starring Will Ferrell.
In Popular Culture
Pepsi Center appears in the South Park episodes Stanley's Cup and The Ring.
References
External links

Wikimedia Commons has media related to: