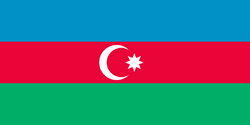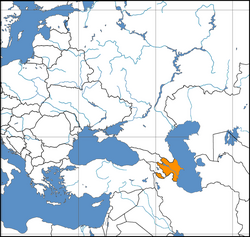 Azerbaijan is a nation located south of Russia in the Caucasas Mountains of Europe.
It was formerly a part of the Soviet Union and became indepedent in 1991.
It has a population of over 8,000,000 and its capital is Baku. It borders Russia to the north, Georgia to the northwest, Armenia to the west, and Iran to the south.
Azerbaijan

Info

Rinks

Players

Referees

Population

8,460 000

Indoor

2

Total

Male

Capital

Baku

Outdoor

0

Male

Female

IIHF Since

May 6, 1992

Junior

Female

The Ice Hockey Federation of the Republic of Azerbaijan (Azerbaidzhanskaya Federatsiya Hokkeya) was founded in 1991 as a part of the Soviet Ice Hockey Federation. After the Soviet Union had disintegrated, the Federation joined the International Ice Hockey Federation on May 6, 1992 the country has not played in any IIHF tournaments. There are claims that there is a 3 team league in Azerbaijan featuring teams named Atasport, Azneftheim and Svayzist; there are however no sources that seem to back it. Actually, even in webpages in Azeri, mentions of ice hockey (Buzüstü xokkey) are extremely scarce and usually revolve around the Azeri Wikipedia page about the sport, or mirror sites of it.
In 1961 Baku hosted a tournament where the different Soviet Republics played against each other (excluding Azerbaijan itself). They have a small ice rink at the Elite Shopping and Entertainment Center in Baku. The other rink is the Glavbakstroy Sports Palace.
National Teams
turkum