Austria
Nickname(s)
The Eagles
Association
Österreichischer Eishockeyverband
Head coach
Roger Bader
Assistants
Philipp Lukas
Markus Peintner
Captain
Peter Schneider
Most games
Gerhard Unterluggauer (166)
Top scorer
Rudolf König (56)
Most points
Rudolf König (96)
IIHF code
AUT
IIHF ranking
17
Highest IIHF ranking
11 (2004)
Lowest IIHF ranking
17 (2007, 2016, 2018 (O)-2018, 2020-present)
Team colours

    

    

    

First international
 Czechoslovakia 3-0 Austria 
(Štrbské Pleso, Czechoslovakia; January 9, 1925)
Biggest win
 Austria 30-0 Belgium 
(Stockholm, Sweden; March 12, 1963)
Biggest defeat
 Canada 23-0 Austria 
(Cortina d'Ampezzo, Italy; January 27, 1956)
IIHF World Championships
Appearances
34 (first in 1928)
Best result
Bronze: 2 - 1931, 1947
Olympics
Appearances
13 (first in 1928)
Medals
none
International record (W-L-T)
358-438-85
The Austrian men's national hockey team is the national ice hockey team for Austria. The team is controlled by Österreichischer Eishockeyverband. The Austrian team is currently ranked 17th in the IIHF World Rankings. Austria has not won a medal in a major tournament since 1947, and has not broken 10th place since 1994. Austria currently has 7,670 registered players (0.09 % of the total population). Their head coach is Roger Bader.
Olympic Record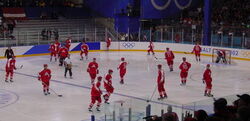 European Championship Record
1910-1911 - Did not participate
1912 -  Bronze
1913 - Finished in 4th place
1914-1924 - Did not participate
1925 -  Silver
1926 -  Bronze
1927 -  Gold
1929 -  Bronze
1932 -  Silver
World Championship Record
Actual Roster
| Position | Number | Name | Born | Height | Weight | Shoots/Catches |
| --- | --- | --- | --- | --- | --- | --- |
| G | #31 | Alexander Schmidt | February 26, 2000 | 5ft 10in (178cm) | 172lb (78kg) | L |
| G | #29 | Bernhard Starkbaum | February 19, 1986 | 6ft 1in (186cm) | 196lb (89kg) | L |
| G | #1 | Sebastian Wraneschitz | March 6, 2002 | 6ft 0in (182cm) | 176lb (80kg) | L |
| D | #20 | Nico Brunner | September 17, 1992 | 5ft 11in (181cm) | 172lb (78kg) | L |
| D | #16 | Dominic Hackl | November 8, 1996 | 6ft 1in (186cm) | 190lb (86kg) | L |
| D | #11 | Daniel Jakubitzka | June 17, 1996 | 5ft 9in (176cm) | 170lb (77kg) | L |
| D | #7 | Erik Kirchschläger | February 4, 1996 | 5ft 10in (177cm) | 176lb (80kg) | L |
| D | #4 | Gerd Kragl | June 23, 1997 | 5ft 10in (178cm) | 179lb (81kg) | L |
| D | #2 | Luis Lindner | May 16, 2001 | 5ft 10in (178cm) | 159lb (72kg) | L |
| D | #12 | David Maier | January 12, 2000 | 6ft 2in (187cm) | 179lb (81kg) | R |
| D | #25 | Ramon Schnetzer | August 12, 1996 | 5ft 10in (178cm) | 176lb (80kg) | L |
| D | #28 | Kilian Zündel | January 17, 2001 | 5ft 10in (179cm) | 165lb (75kg) | L |
| F | #22 | Benjamin Baumgartner | April 22, 2000 | 5ft 9in (176cm) | 165lb (75kg) | L |
| F | #6 | Stefan Gaffal | November 24, 1996 | 6ft 0in (182cm) | 176lb (80kg) | R |
| F | #32 | Tim Harnisch | April 18, 2001 | 5ft 10in (179cm) | 174lb (79kg) | L |
| F | #24 | Mario Huber | August 8, 1996 | 6ft 2in (188cm) | 187lb (85kg) | R |
| F | #26 | Paul Huber | June 10, 2000 | 6ft 4in (193cm) | 209lb (95kg) | L |
| F | #19 | Lukas Kainz | September 2, 1995 | 6ft 0in (183cm) | 187lb (85kg) | L |
| F | #21 | Benjamin Nissner | November 30, 1997 | 5ft 10in (179cm) | 163lb (74kg) | L |
| F | #5 | Thomas Raffl | June 19, 1986 | 6ft 4in (194cm) | 234lb (106kg) | L |
| F | #9 | Alexander Rauchenwald | May 11, 1993 | 5ft 10in (179cm) | 190lb (86kg) | L |
| F | #18 | Marco Richter | November 19, 1995 | 6ft 0in (183cm) | 183lb (83kg) | L |
| F | #3 | Peter Schneider | April 4, 1991 | 6ft 0in (183cm) | 201lb (91kg) | R |
| F | #15 | Simeon Schwinger | October 7, 1997 | 6ft 0in (182cm) | 165lb (75kg) | L |
| F | #10 | Patrick Spannring | November 6, 1990 | 6ft 0in (184cm) | 198lb (90kg) | L |
| F | #8 | Martin Ulmer | April 26, 1988 | 5ft 9in (175cm) | 170lb (77kg) | R |
Team Staff
| Role | Name | Born |
| --- | --- | --- |
| Head coach | Roger Bader | September 29, 1964 |
| Assistant coach | Philipp Lukas | December 4, 1979 |
| Assistant coach | Markus Peintner | December 17, 1980 |
| Goalie coach | Reinhard Divis | July 4, 1975 |
| Doctor | Christopher Lobo | 1989 |
| Physiotherapist | Thomas Gröbl | |
| Physiotherapist | Stefan Podar | |
| Equipment manager | Herbert Cerny | |
| Equipment manager | Wolfgang Ortner | October 20, 1964 |
| Team manager | Florian Russmann | |
External links