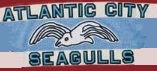 The Atlantic City Sea Gulls were an amateur hockey team out of Atlantic City, New Jersey.
They were set up as an independent (non-league) team in 1930. They initially played exhibition games against teams form the northeastern United States and eastern Canada, The Sea Gulls were a big draw in Atlantic City, which was a big tourist destination with gambling casinos and big-time entertainment.
The Sea Gulls joined in the Tri States Hockey League when it was formed in 1932 and won the league championship. The league became the Eastern Hockey League the following season. The Sea Gulls won the league championship four times - in 1937, 1938, 1940, and 1951. They took a hiatus from 1942-47 and the entire league took a hiatus in 1948-49.
The team folded in 1951, a victim of the fall of Atlantic City's tourism as anything else.
United States National Championships
The Sea Gulls particpated in the National Championships six times:
Season-by-Season Records
Season
Games
Won
Lost
Tied
Points
Goals
for
Goals
against
Standing
1932-33
18
15
1
2
32
100
27
1st
Season
Games
Won
Lost
Tied
Points
Goals
for
Goals
against
Standing
1933-34
23
19
3
1
39
110
45
1st
1934-35
21
8
10
3
19
44
64
3rd
1935-36
39
20
18
1
41
101
111
3rd
1936-37
48
27
19
2
56
148
120
2nd
1937-38
58
31
16
11
73
199
168
2nd
1938-39
53
22
25
6
50
170
184
3rd
1939-40
61
25
31
5
55
207
242
4th
1940-41
65
32
28
5
69
253
256
3rd
1941-42
60
20
39
1
41
239
316
6th
1947-48
48
17
25
6
40
167
196
3rd
1949-50
47
14
31
2
30
122
193
3rd East
1950-51
54
23
24
7
53
231
218
4th
1951-52
65
26
36
3
55
255
231
2nd South
Sea Gulls who played in the NHL