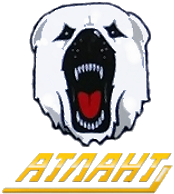 Atlant Moscow Oblast is a professional ice hockey team based in Mytishchi, Moscow Oblast, Russia. They are members of the Bobrov Division of the Kontinental Hockey League (KHL).
History

Atlant Moscow was founded on December 20th, 1953, then under the name Khimik (1953-2008) in Voskresensk. Khimik played its first game on December 27, 1953. Immediate success allowed Khimik to play in the Championship of the USSR. Leading the team was playing-coach Nikolai Epstein. In three short years, Khimik was graduated to the top league of the Soviet Union. 3 bronze medal results between 1965-1984 were followed in 1989 when the team achieved silver under prestigious head coach Vladimir Vasiliyev, a major accomplishment for a team from a small town. More impressive is how much successful homegrown talent as come out of the Khimik system, with names including future Stanley Cup winners such as Igor Larionov and Valeri Kamensky.

In the spring of 1998 the status of the team changed, representing not only the city of Voskresensk but also the entire Moscow Oblast. This event took place on their 45th anniversary. During the 2005-06 season, the team relocated within the Moscow Oblast, from Voskresensk to Mytishchi. Following this, the team changed its name to Atlant, prior to its inclusion in the Kontinental Hockey League. Their new team logo features a sheep dog.

It is important to note that following their move to Mytishchi, an expansion team was awarded to the city of Voskresensk to play out of the historic Podmoskovie Stadium. Though associated, these teams are not to be confused.
Recent history
Atlant signed NHL goaltender Ray Emery to a single year contract on July 9th 2008. The deal was reportedly worth in excess of $2 million plus bonuses.
Atlant and Emery have had several issues including Emery attacking the team trainer and also refusing to return to the team after the KHL break over a contract dispute. He was upset that the his pay was in rubles that were not inflation protected. They have since resolved their issues and he is back with the team.
NHL Alumni

Igor Larionov (1978-81),

Valeri Kamensky (1982-85),

Valeri Zelepukin (1984-91),

Vyacheslav Kozlov (1987-91),

German Titov (1982-92),

Sergei Berezin (1990-94)
Honors
Winners
2007
Runners-up
1989
Other notable achievements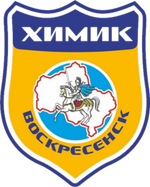 League History
External links