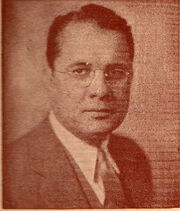 Arthur Michael Wirtz (January 23 1901 – July 21 1983) was a powerful figure in sports and arena operation. He was the owner of Chicago Stadium, Olympia Stadium in Detroit, the Bismarck Hotel in Chicago, the Chicago Black Hawks, and the Chicago Bulls. He was the father of the late Black Hawks owner Bill Wirtz, and grandfather of current Blackhawks owner Rocky Wirtz.
Born in Chicago, Illinois, Wirtz went into sports and arena ownership because of his real estate investments. He was a real estate salesman in Chicago after graduating from the University of Michigan in 1923.
Wirtz was an important showbiz figure with his presentation of the Sonja Henie Ice Show, which toured arenas for many years. He was also involved with the Henie-produced ice shows which played the Center Theatre at Rockefeller Center in New York for several seasons.
Wirtz took over the ownership of Ice Follies and Holiday on Ice which he later sold to Irvin & Kenneth Feld.
He was a major factor in the growth of the National Hockey League, through his ownership of the Chicago Black Hawks. He and James D. Norris purchased the near bankrupt franchise in 1952 and though it went through rough moments, Wirtz and Norris turned the franchise around and won back the fans they had lost. He was inducted into the Hockey Hall of Fame in 1971.
Arthur Wirtz died of cancer at age 82.
Community content is available under
CC-BY-SA
unless otherwise noted.