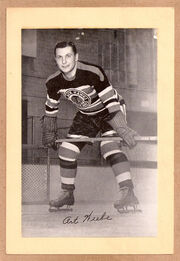 Walter Arthur Ronald Wiebe (b. September 28, 1912 in Rosthern, Saskatchewan - d. June 6, 1971 in Edmonton, Alberta) was a professional ice hockey defenceman who played 414 games in the National Hockey League. He played with the Chicago Black Hawks. He won the Stanley Cup in 1938. He played his entire career with the Chicago Black Hawks.
Wiebe played junior hockey with the Edmonton Poolers from 1930 to 1932. In 1932-33 he played for the senior Edmonton Superiors and the St. Paul Greyhounds besides his debut for the Chicago Blackhawks. He played the 1933-34 season for the Kansas City Greyhounds. From 1934 to 1944 he played exclusively for the Blackhawks.
In his 414 NHL games he scored 14 goals and 27 assists.
External Links