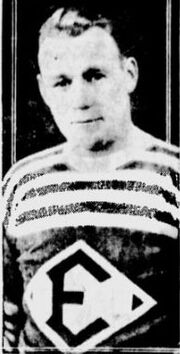 Arthur Almer Albert Townsend (October 9, 1905 – May 7, 1971) was a Canadian professional ice hockey defenceman who played four games in the National Hockey League for the Chicago Blackhawks. He was born in Souris, Manitoba.
He played senior hockey with his hometown Souris team and with Brandon from 1923 to 1925. He then signed with the Regina Capitals of the Western Canada Hockey League in 1925 and played with the team as it moved to become the Portland Rosebuds in 1925-26.
When the league folded in 1926 the Rosebuds were purchased by the new Chicago Blackhawks team. Townsend played five games for Chicago and score no points. That was the extent of his NHL career.
He went on to play 10 seasons of minor pro, mostly in western North America. In 1936-37 he played for the University of Alberta and then played two seasons for the senior Edmonton Superiors. He retired in 1939.
External links
[
]