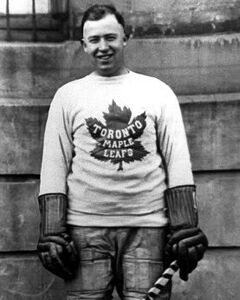 Art Smith (November 29, 1906 – May 16 1962) was a Canadian professional ice hockey player who played 137 games in the National Hockey League. Born in Toronto, Ontario, he played for the Toronto Maple Leafs and Ottawa Senators.
He played junior hockey for the Toronto Canoe Club from 1924 to 1926 and for their senior team in 1926-27. The Toronto Maple Leafs signed him in 1927. He started out with the Toronto Ravinas and then joined the Leafs later on in the 1927-28. Smith continued to play for the Leafs for two more seasons.
In 1930 he was sent to the Ottawa Senators as part of the King Clancy trade. He played one season for the Senators and then played 1932-33 in the minors.
In the NHL Smith played 144 games and scored 15 goals and 10 assists.
Smith retired in 1933.
External links
[
]