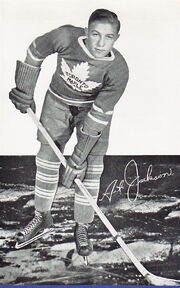 Arthur Morris "Art" Jackson (December 15, 1915 in Toronto, Ontario – May 15, 1971) was a National Hockey League (NHL) player and the brother of Hockey Hall of Famer Harvey 'Busher' Jackson. He won 2 Stanley Cups in his Career Boston Bruins 1941, and Toronto Maple Leafs 1945.
He played junior with the Toronto Marlboros in 1931-32 and 1932–33 and then with the St, Michael's Majors when they won the Memorial Cup in 1933-34.
Jackson joined the Toronto Maple Leafs in 1934-35 but could not stick with the NHL team. He split three seasons between the Leafs and their farm team the Syracuse Stars.
He was traded to the Boston Bruins in 1937 and then loaned to the New York Americans in 1938-39. After that Jackson played for six straight seasons with the Bruins, winning the Stanley Cup in 1941, He hit a career high with 28 goals and 41 assists in 1943-44.
In the middle of the 1944-45 season was traded back to the Toronto Maple Leafs. He retired at the end of the season after winning the Stanley Cup one more time.
After retiring from playing hockey Jackson moved to St. Catharines, Ontario, where he became a hockey coach for the OHA junior St. Catharines Falcons and St. Catharines TeePees.
Trivia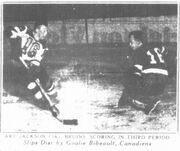 After the November 15, 1942 game at Detroit, it was discovered that the jersey of Tony Graboski of the Montreal Canadiens was missing. With no extra jerseys and an impending game at the Boston Garden, the Canadiens borrowed the #16 jersey from the Red Wings which goalie Paul Bibeault wore for the November 17, 1942 game against the Boston Bruins. Graboski wore Bibeault's #1 jersey for the game.

 
Gallery
External Links