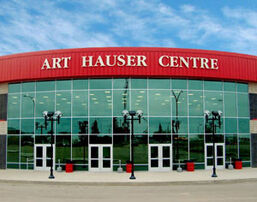 Art Hauser Centre
Location
690 32nd Street W
Prince Albert, SK
Opened
September, 1971
Renovated
2005
Expanded
2005
Owner
City of Prince Albert
Operator
City of Prince Albert
Surface
Multi-surface
Former names
Communiplex
Tenants
Prince Albert Raiders (WHL)
1971 - present
Prince Albert Mintos
Capacity
Hockey: 3,571


Concerts: 3,571
Boxing: 3,071
The Art Hauser Centre (formerly the Communiplex) is a multi-purpose arena in Prince Albert, Saskatchewan, Canada. It was built in 1971 and is home to the Prince Albert Raiders Ice hockey team in the Western Hockey League. Its hockey capacity is 3,571 seated, plus 708 standing.
The Art Hauser Centre was formerly known as the Prince Albert Communiplex, but it was renamed late in the 2004-2005 hockey season as part of the "Bring Back The Magic" campaign. This was an endeavour to raise money for extensive renovations to the Communiplex. In just under a month, the campaign raised over $3 million.
The arena was named in honour of Art Hauser who made a donation of $1,000,000 to the campaign. Renovations were completed in the spring of 2006.
Changes to the arena included new concessions at the southeast corner of the building on both levels, new washrooms at the southeast corner of the building on both levels, new seats in the entire arena, a new centre-ice scoreboard, including television screens on all 4 sides, an expanded Ches Leach Lounge, a new front lobby, including concessions and Raider Store, new offices for both the Prince Albert Raiders and the City of Prince Albert, and expanded dressing rooms.
External links
[
]