Armenia

Flag and abbrev.
ARM
Continent
Eurasia
Leader

Hayk Jaghatspanyan

Population
3 238 000 (as of 2009)
Registered players
578
Percentage
-
National team
Armenian National Team
National federation
Ice Hockey Federation of Armenia
IIHF ranking
45th
Top league

Armenian Championship
Armenia (Armenian: Հայաստան, Hayastan) is a small country of the Caucasus, bordered by Turkey to the west, Georgia to the north, Azerbaijan to the east and Iran to the south, in the area between the Black Sea and the Caspian Sea. Armenia used to be a member of the Soviet Union, and has been independent since 1991. Its population is over 3,000,000 and the capital is Yerevan.
History of hockey in Armenia
In September 2009, then president of the Armenian Federation Karen Khatchatryan was killed in a car accident along with his wife, his son, Denis Davidov (vice-president of the Georgian Federation), the General secretary and his wife while driving through Turkey to attend to the semi-annual congress of the International Ice Hockey Federation held in Tunis, Tunisia.
The 2010 DIIIB World Championship was held in Yerevan. In front of its supporters, the Armenian National Team qualified for the medal round, but failed to gain promotion to Division II. However, the Armenians were later punished for using ineligible players, an offence the team had already committed in the past. Just as the previous time, Armenia used several American-Armenian players and are suspected to have sent IIHF officials wrong informations about the players[1]; this resulted in the country being indefinitely suspended by the IIHF, until further decisions are taken by the Federation following their investigation[2].

Ice hockey was played sporadically in Armenia during the 1960's. In 1962, the Armenians played in a tournament that was held in Sverdlovsk, Russia, where teams from some of the Soviet states played against each other. One of the Armenian games was a 0-1 loss to Lithuania on March 8,1962. Today there is a league in Armenia. There are two indoor and three outdoor rinks in the country.
Organisation
Armenia

Info

Rinks

Players

Referees

Population

2,976 372

Indoor

2

Total

520

Male

24

Capital

Yerevan

Outdoor

3

Male

390

Female

0

IIHF Since

September 22, 1999

Junior

130

Per Capita

Female

0
National Teams
League
International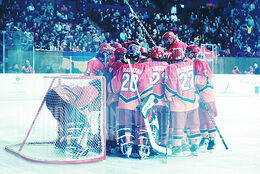 External links