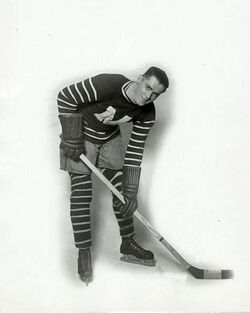 Archibald Thomas Bartlett Wilcox - (May 5, 1903 in Montreal, Quebec – August 27, 1993) was a professional ice hockey defenceman who played 7 seasons in the National Hockey League for the Montreal Maroons, Boston Bruins and St. Louis Eagles.
Wilcox played senior hockey in Montreal with the Montreal St Annes and Montreal Victorias from 1924 to 1926. He then turned pro with the Stratford Nationals in 1926-27 but was released in mid-season. The Providence Reds then signed him and Wilcox stayed with them for another two seasons.
In 1929 the Montreal Maroons accquired him from the Reds. Wilcox played for them for four full seasons. Part way through the 1933-34 season the Boston Bruins took him off waivers from the Maroons. Wilcox finished that season with the Bruins and then was traded to the St. Louis Eagles. He played in only eight games for the Eagles and was sent down to the Syracuse Stars. That marked the end of his career and he retired in 1935.
In his NHL career, Wilcox played in 207 games and scored 8 goals and 14 assists.
External links