Annie Guay
Position
Defence
Shoots
Left
Height
Weight
5 ft 8 in (1.73 m)
174 lb (79 kg)
ECAC
CWHL Team
St. Lawrence Skating Saints
Montreal Stars
Born

Rouyn-Noranda, Quebec
June 29, 1985,
Pro Career
2003 – present
Medal record
Competitor for




Women's 4 Nations Cup
Gold
2010 Canada
Tournament
MLP Nations Cup
Gold
2004 Germany
2004 Tournament
Gold
2005 Germany
2005 Tournament
Silver
2006 Germany
2006 Tournament
Gold
2007 Germany
2007 Tournament
Gold
2010 Germany
2010 Tournament

Annie Guay has competed for the Canadian National women's ice hockey team. Her first tournament for Canada was at the 2010 Four Nations Cup where she won the gold medal.
Playing career
NCAA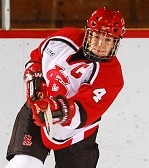 Guay was an important key to the Saints' defensive success in the 2005-06 season. The St. Lawrence Saints held league opponents to an average of 1.10 goals per game. In addition, Guay contributed on with 21 points (seven goals, fourteen assists) in ECAC league games, which led all ECAC defenders.[1] In her senior year at St. Lawrence (2007-08), Guay, along with teammate Sabrina Harbec capped their senior years by earning All-America honors for the third straight year.[2]
Career stats
NCAA
Annie Guay is the all time leader in games played for Canada's Under 22 National women's team with 37 games played.
| years | Games | Goals | Assists | Pts | Pen |
| --- | --- | --- | --- | --- | --- |
| 2003 at 2007 and 2009-10 | 37 | 8 | 10 | 18 | 20 |
Hockey Canada
Event
GP
G
A
Pts
August 2003
Exhibition vs. US
3
0
0
0
2004 Air Canada Cup
4
1
2
3
August 2004
Exhibition vs. US
3
0
0
0
2005 Air Canada Cup
4
1
0
1
2005 U22 Selection Camp
Canada White squad
2
1
1
2
2006 Air Canada Cup
4
0
1
1
2006 U22 Selection Camp
Canada White squad
2
1
0
1
August 2006
Exhibition vs. US
3
0
0
0
2007 Air Canada Cup
5
1
3
4
2009 U22 Selection Camp
Canada White squad
2
0
1
1
2010 MLP Nations Cup
5
3
2
5
2010 Four Nations Cup
4
0
0
0
CWHL
| | | |
| --- | --- | --- |
| Season | Team | Regular season + playoffs |
| 2008-09 | Montreal Stars | N/A |
| 2009-10 | Montreal Stars | 22 games: 7 goals & 25 assists[5] |
| 2010-11 | Montreal Stars | 14 games: 7 goals & 13 assists[6] |
Awards
2006 First Team All-ECAC [7]
2006 ECAC Tournament team[8]
Second Team All-America selection (2006)
2006-07 ECAC Coaches Preseason All-League Selection
2006-07 ECAC Media Preseason All-League Selection[9]
All-America honors (2007)
All-America honors (2008) [10]
2008 First Team All-ECACCite error: Closing </ref> missing for <ref> tag
References