Angela Ruggiero
Position
Defense
Height
Weight
5 ft 8 in (1.73 m)
192 lb (87 kg)
ECAC Team
Harvard
Boston (CWHL)
Born
January 3 1980
Panorama City, CA
,
Pro Career
1997 – present
Angela Marie Ruggiero (born January 3, 1980 in Panorama City, California) is an American ice hockey defenseman.
Playing career
Edit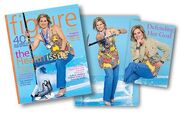 Ruggiero played high school hockey at private school, Choate Rosemary Hall in Wallingford, Connecticut. Other alumni included U.S. president John F. Kennedy, Ivanka Trump and Amanda Hearst. [1] While still a high school senior at Choate Rosemary Hall, Ruggiero played on the gold medal-winning 1998 United States Olympic Hockey Team in Nagano, Japan. She was also a member of the silver medal-winning 2002 team in Salt Lake City, Utah.
In her senior year at Harvard University, Ruggiero won the 2004 Patty Kazmaier Award as the top player in U.S. women's collegiate hockey. She graduated from Harvard in 2004 with a degree in government.
Ruggiero made several U.S. professional hockey "firsts" on January 28, 2005, when she played for the Tulsa Oilers in a Central Hockey League game against the Rio Grande Valley Killer Bees. She was the first woman to actively play in a regular season professional hockey game in the United States at a position other than goalie. In addition, since her brother Bill Ruggiero also played for the Oilers, they were the first brother-sister combination to play professionally at the same time.
Ruggiero was also credited with the game-winning goal in the shoot-out that won the 2005 Women's World Ice Hockey Championships for the United States against the Canadian national women's hockey team, winning the first gold medal ever for the United States at the world championship. At the 2005 Esso National Women's Championships, she was named the Best Defenceman for Group A.[2]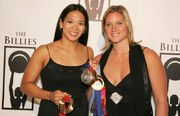 While representing the United States in the 2006 Winter Olympics in Torino, Italy, Ruggiero was widely quoted for comments she made to the Sports Illustrated website regarding the Canadian team's behavior during the preliminary round of the women's hockey tournament:
"I'm upset that Canada has been running up the score, especially against the host nation... There was no need for that. They're trying to pad their stats... Canada is running up the score for whatever reasons — personal, short-term." [3] Her remarks were criticized by people ranging from members of Team Canada to sports commentators, although others agreed with her statements. Her concern was that the one-sided results (Canada outscored their competitors 36-1) could jeopardize women's hockey Olympic status as it might be perceived as not competitive enough.[4]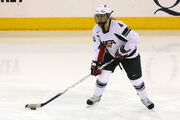 While with the Minnesota Whitecaps, Ruggiero had the opportunity to play with 1998 Canadian Olympic goalie Manon Rheaume during the 2008-09 Whitecaps season.[5] In December 2009, Ruggiero was named to her fourth Olympic hockey team. To prepare for the 2010 Olympics, she joined a group of NHL players in the summer of 2009 for workouts at Athletes' Performance in Carson, California. Her preparation relied less on powering through workouts and paid more attention to detail. The training group included Chris Drury, Richard Park, and George Parros.[6]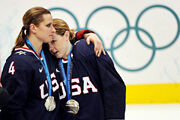 On January 14, 2010, she was named as an alternate captain for the United States Olympic hockey team.[7][8] In addition, she was announced as one of nine current and former athletes standing for election to become members of the IOC in Vancouver. The announcement was made on January 20, 2010. Ruggiero is seeking to become the third IOC member from the U.S., joining Jim Easton and Anita DeFrantz.[9] On November 10, 2010, Ruggiero was selected to serve on the evaluation commission that will inspect the three cities competing to host the 2018 Olympic Winter Games. She will be one of four Americans on the 11-member panel that will travel to potential host cities for on-site inspections from February 8-March 5, 2011. [10]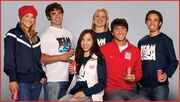 Administrative
Edit
On February 18, 2012, Ruggiero was named president-elect of the Women's Sports Foundation.[11] Ruggiero has committed to serve as a member of the IIHF Athletes Committee from 2013-16. Of note, she is the only female that is part of the group.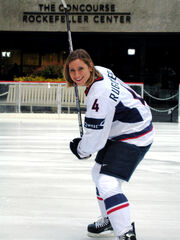 Ruggiero is the author of a memoir, Breaking the Ice: My Journey to Olympic Hockey, the Ivy League & Beyond, published by Drummond Publishing Group in 2005. The book details her hockey career, including her experiences with misconceptions about women's hockey and the challenges of being a female player in a male-dominated sport. She was the former Director of the New York Islanders' Project Hope, as well as the New York Islanders Children's Foundation.[12]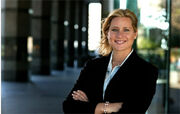 Awards and honors
Edit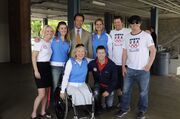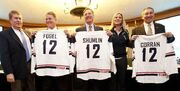 American Women's College Hockey Alliance All-Americans, First Team (1999)[13]
Beanpot MVP (2004)
Best Female Hockey Player in the World by The Hockey News (2003)[14]
Directorate Award as the Top Defenseman at the Winter Olympics, Salt Lake City (2002)
ECAC Player of the Year(2004)
ECAC All-Academic Team (2003–2004)
Four-time NCAA All-American
Four-time NCAA All-ECAC
Harvard Crimson Female Athlete of the Year (2004)
Harvard MVP (2004, 2003, 2001)
Ivy League Player of the Year(2004)
NCAA First Team Academic All-American (2004)
NCAA Top VIII award as one of the top 8 student-athletes in the entire NCAA (2004)
NCAA National Strength and Conditioning Association Athlete of the Year(2004)
New England Sports Writer's Player of the Year (2004)
Patty Kazmaier Memorial Trophy winner (2004)
Patty Kazmaier Memorial Trophy, Top 3 Finalist (2003)[15]
Ranked one of Top 16 Female Athletes in the World by ESPN.com (2004)
Ranked #94 on The Hockey News 2011 List of the 100 Most Powerful People in Hockey[16]
Top Defenseman Award at the Winter Olympics (2006, 2002)
Top Defenseman Award at the ESSO Canadian Provincials (2005)
Top Defenseman in the World by Globe and Mail (2003)
USA Hockey Chevy Women's Player of the Year (2003, 2004)[17]
United States Olympic Committee (USOC) Hockey Player of the Year (2003)
Vancouver 2010 Olympics, Media All-Star Team[18]
World Championships- Voted Top Defenseman (2008, 2005, 2004, 2001)
References
Edit
Community content is available under
CC-BY-SA
unless otherwise noted.