The Angela James Bowl was introduced in 2007-08 to recognize the top points scorer in the newly-formed Canadian Women's Hockey League. The trophy was named in honour of Angela James, a former women's hockey star. The Angela James Bowl was donated by magazine publisher and hockey writer Richard Scott. Jennifer Botterill of the Mississauga Chiefs won the scoring title in 2007-08. Jayna Hefford of the Brampton Canadette-Thunder won the scoring title in 2008-09.
Angela James
Angela James was a long-time member of the North York/Beatrice Aeros. She also played for the Hamilton Golden Hawks and Newtonbrook Panthers. She was a three-time scoring champion in the Central Ontario Women's Hockey League and the first-ever goal-scoring champion in the National Women's Hockey League. At the international level, she won four-straight gold medals at the IIHF Women's World Championships, leading Canada with 34 points after those first four IIHF tournaments. In 2008, she was one of the first women players inducted into the IIHF Hockey Hall of Fame.
Winners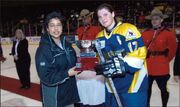 Despite winning CWHL Top Scorer of the Month honours on three separate occasions (September, December, January) during the 2007-08 season, Jayna Hefford lost the Angela James Bowl scoring race to Jennifer Botterill. The scoring race was separated by just three points (58 points to Jennifer Botterill's 61 points).[1]
References
External links