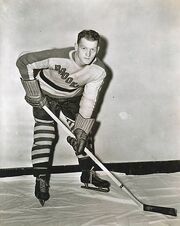 Andy Branigan (Born - April 11, 1922 in Winnipeg, Manitoba, Died - April 13, 1995) was a defenceman who played two NHL seasons with New York/Brooklyn Americans in the 1940s, as well as several seasons with the Hershey Bears of the AHL.
He played junior hockey for the Winnipeg Monarchs, who were then a New York Americans' farm team, in 1939-40. The following season he turned pro with the Springfield Indians and got into six games with the Americans, scoring a goal. During the February 28, 1941 game versus the Detroit Red Wings, Americans goalie Chuck Rayner was hurt with a little over seven minutes remaining in the game. Branigan filled in for Rayner and did not allow any goals. The Red Wings won 5-4.
In 1941-42 he played 21 games for the renamed Brooklyn Americans and scored two assists. When the team suspended operations in 1942, Branigan's rights were acquired by the Detroit Red Wings in a special dispersal draft.
Branigan returned to Canada to play senior hockey with the Winnipeg RCAF Bombers in 1942-43, 1943-44, and 1944-45.
After World War II Branigan returned to the pro ranks to play for the Red Wings' farm team the Indianapolis Capitals in 1945-46. The next season he joined the Hershey Bears for an eight year stay. After that he went to the Providence Reds for four seasons (1954 to 1958).
He finished off his career with two seasons in the Eastern Hockey League. Branigan retired in 1960.
His NHL career included the 27 games that he played the 27 games with the Americans, with one goal and two assists.
Awards and Achievements
External Links