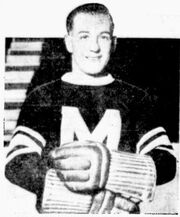 Andrew Edward Bellemer (July 3, 1903 – April 12, 1960) was a Canadian professional ice hockey defenceman who played 16 games in the National Hockey League with the Montreal Maroons. He was born in Penetanguishene, Ontario.
He played senior hockey in New Hamburg in 1925-26 and then played six seasons of minor pro in Windsor, Ontario. The Montreal Maroons brought him up to the NHL for 15 games in 1932-33 and Bellemer did not score any points.
Bellemer went back to the minor pros, mostly in the American Hockey Association until 1942-43, when he played with the senior Toronto Research Colonels.
In 1940-41 he coached the Tulsa Oilers.
External links
[
]