Andrei Anatolyevich Mezin (born July 8, 1974 in Chelyabinsk, U.S.S.R.) is a Belarusian goaltender currently playing for HC Dinamo Minsk in the Kontinental Hockey League.
Interntaional
[
]
Mezin gained international attention in 2002 as a member of the Belarus national men's ice hockey team at the 2002 Winter Olympics. Despite not winning a game in the Group D round robin, Belarus beat the Sweden national men's ice hockey team in the final round. Mezin was stellar, holding a star-laden Swedish team to only 3 goals on over 50 shots. The game was won by Belarus late in the third through a long shot gaffe made by Tommy Salo in the Swedish net. Belarus ended up finishing in fourth place.
On October 1, 2008, Mezin and Metallurg Magnitogorsk faced the New York Rangers of the NHL in the inaugural Victoria Cup. Mezin stopped 40 out of 44 shots, playing a very respectable game in the 4-3 loss.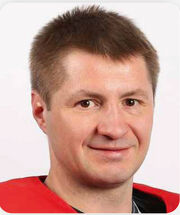 Career statistics
[
]
 
 
Regular season
 
Playoffs
Season
Team
League
GP
W
L
T
MIN
GA
SO
GAA
SV%
Pts
PIM
GP
W
L
MIN
GA
SO
GAA
SV%
Pts
PIM
1993–94
Roanoke Express
ECHL
1
0
1
0
18
1
0
3.28
0.667
0
2
--
--
--
--
--
--
--
--
--
--
1995–96
Flint Generals
CoHL
40
27
9
2
2270
132
1
3.49
0.883
1
2
8
?
?
?
?
?
?
?
0
0
1995–96
Fort Wayne Komets
IHL
1
?
?
?
35
1
0
1.72
0.958
0
0
--
--
--
--
--
--
--
--
--
--
1996–97
Flint Generals
CoHL
25
19
4
1
1416
58
2
2.46
0.902
0
8
4
?
?
?
?
?
?
?
0
0
1996–97
Las Vegas Thunder
IHL
10
4
5
0
490
33
0
4.04
0.883
0
0
--
--
--
--
--
--
--
--
--
--
1996–97
Rochester Americans
AHL
7
3
3
1
386
31
0
4.82
0.843
1
0
--
--
--
--
--
--
--
--
--
--
1997–98
Flint Generals
UHL
27
21
5
0
1488
86
1
3.47
0.885
2
4
8
?
?
?
?
?
?
?
1
2
1997–98
Detroit Vipers
IHL
4
2
1
0
178
8
0
2.69
0.852
1
0
--
--
--
--
--
--
--
--
--
--
1998–99
Nürnberg Ice Tigers
DEL
49
?
?
?
?
?
?
2.60
0.900
2
32
13
?
?
?
?
?
2.43
0.908
0
27
1999–00
Berlin Capitals
DEL
56
?
?
?
?
?
?
2.78
0.896
2
72
7
?
?
?
?
?
3.27
0.908
1
0
2000–01
Berlin Capitals
DEL
58
?
?
?
?
?
?
2.67
0.907
4
26
5
?
?
?
?
?
3.40
0.890
0
12
2001–02
Berlin Capitals
DEL
54
?
?
?
3147
166
4
3.16
0.893
3
58
--
--
--
--
--
--
--
--
--
--
2001–02
Berlin Capitals
DEL - Abstiegsrunde
6
?
?
?
?
?
?
3.17
0.894
0
0
?
?
?
?
?
?
?
?
?
?
2002–03
Ak Bars Kazan
RSL
1
?
?
?
?
?
?
0.00
?
0
0
--
--
--
--
--
--
--
--
--
--
2003–04
HC České Budějovice
CzEx
15
4
9
2
805
40
1
2.98
0.904
0
12
--
--
--
--
--
--
--
--
--
--
2003–04
HC České Budějovice
1.liga (CZE)
--
--
--
--
--
--
--
--
--
--
--
4
?
?
?
?
?
2.16
0.900
?
2
2004–05
SKA Saint Petersburg
RSL
42
?
?
?
?
?
?
?
?
0
6
--
--
--
--
--
--
--
--
--
--
2005–06
Salavat Yulaev Ufa
RSL
38
?
?
?
2183
72
2
1.98
0.923
1
10
6
?
?
?
?
?
2.71
?
0
0
2006–07
Salavat Yulaev Ufa
RSL
19
?
?
?
?
?
?
1.71
?
0
4
3
?
?
?
?
?
1.83
?
0
0
2007–08
Metallurg Magnitogorsk
RSL
35
?
?
?
?
?
?
1.84
?
1
6
3
?
?
?
?
?
2.67
?
0
0
2008–09
Metallurg Magnitogorsk
KHL
26
?
?
?
?
?
?
2.82
0.896
0
0
6
?
?
?
?
?
2.27
0.922
0
0
Russian Superleague totals
135
--
--
--
--
--
--
--
--
2
26
12
--
--
--
--
--
2.40
--
0
0
Deutsche Eishockey Liga totals
217
--
--
--
--
--
--
2.80
0.899
11
188
25
--
--
--
--
--
3.03
0.902
1
39
International Hockey League totals
15
--
--
--
703
42
2
2.82
0.898
1
0
--
--
--
--
--
--
--
--
--
--
Colonial Hockey League totals
65
46
13
3
3686
190
3
2.98
0.93
1
10
12
--
--
--
--
--
--
--
0
0
Titles
[
]
External links
[
]
References
[
]