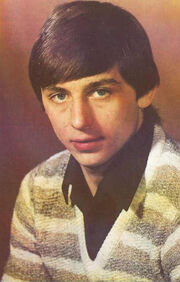 Andrei Valentinovich Khomutov (in Russian: Андрей Валентинович Хомутов) (b. April 21st 1961 in Yaroslavl, USSR) is a retired right winger.
Prominent member of the legendary CSKA Moscow that dominated the Soviet League through the 1980's, Khomutov has been drafted to the National Hockey League by the Quebec Nordiques 190th overall in the 1989 NHL Entry Draft. He however never played in the NHL; he left in 1990 with the fall of communism to play in the Nationalliga A with HC Fribourg-Gottéron, where he had tremendous success. His best offensive season came in 1994-95 where he posted 41 goals and 45 assists in only 35 games.
Khomutov was a regular element of the Soviet National Team, only missing international competitions in 1984. He won the 1981 Canada Cup, as well as the 1981, 1982, 1983, 1986, 1989 and 1993 World Championship; he also won the gold in each of his three participations to the Olympic Games (1984, 1988 and 1992).
Khomutov retired in 1999.
External Links