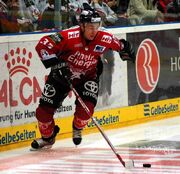 Andreas Renz (born June 12, 1977 in Villingen-Schwenningen, Germany) is a German defenceman playing for the Schwenningen Wild Wings of the 2nd Bundesliga, the second-highest league in Germany.
Renz played for the Schwenningen Wild Wings in the Deutsche Eishockey Liga (DEL), the highest league in the country, from 1994 to 2001. From 2001 to 2010 he played for the Cologne Sharks. In 2010 he signed a contract with the Kassel Huskies, but backed out for family reasons to sign with the Wild Wings.
He has played in many World Championships for Germany, as well as in the 2002 and 2006 Olympics and in the 2004 World Cup of Hockey.
[[DEFAULTSORT:Renz, Andreas}}